DADS, the Database Application Development System, makes it quick and easy to create even the largest, most complex 4D structures...tables, fields, relations and all!
DADS version 2 has a ton of new features. Here's a partial list:

Create structure definitions for 4D applications
Generates 4D Insider SQL DDL files
Completely updated table and field editors
Access to underlying data
Automated documentation
Relation information and reporting
Code generation for 4D Open, Selection to array, data validation/triggers, etc. (Download a sample file of generated code.)
Download a trial version of DADS and see for yourself!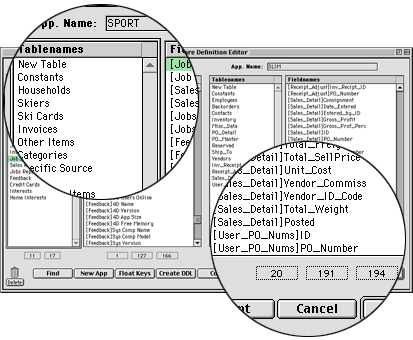 Here's a quote from a beta tester:
"Anyway, for the record, DADS is great. I used it in this project to generate the code for 4D Open binds to distill the data from 2 Servers into 1 application that will form the basis of a CD ROM catalogue and a Web-based catalogue. (Sorry about the anglo-saxon spelling influence ;-). I don't know if you'll have it finished in time for the Summit, but I'll be there and if anyone needs an unbiased ;-) opinon send them along."